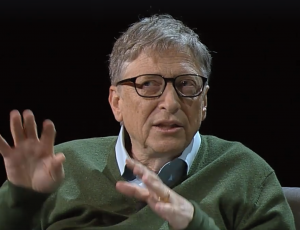 Bill Gates sat down with Warren Buffet and Charlie Rose at Columbia University recently. Now personally, I am a huge fan of all three of these people, but this post isn't to fan-boy (sorry, maybe next time). There was a wealth of great information in the conversation, but one thing in particualar stood out to me.
During the sit down, Bill Gates said that while CEO of Microsoft:
I was very risk averse in running the company, I always made sure we had enough money in the bank, to pay everybody for at least a year, if nobody paid us at all. (about 33:15 in video)
Bill said he did this not out of concern for himself, as he could just pack up and move on if the company failed. However, the employees he was hiring he wanted to make sure they were covered if things took a turn for the worst.
Now I cannot speak to if Microsoft continues to keep a fund to cover wages for one year for all employees, however, I can tell you that Microsoft is to this day a financially conservative company.
So what does this have to do with you. Well, frankly if the richest man in the world and one of the largest companies in the world uses an emergency fund, then shouldn't you?
I hear time and time again stories of how an emergency fund changed someones life. Sometimes they are able to recover from a medical crisis, sometimes they are able to replace their tires and continue to drive to work. But no matter which end of the spectrum it is on, it has changed the lives of so many.
This is the very reason I consider an emergency fund to be the foundation and one of the most important parts of your Financial Freedom Journey.
If you aren't sure what an emergency fund is then get ready to have your life changed.
An emergency fund is 3-6 months of expenses set aside just for emergencies. No this isn't for a fashion crisis or to get the 60 inch TV for the big game. This is to truly get you out of a financial jam.
I also have learned over the years from my own doing and from seeing others that it is critical to keep the emergency fund in a different banking institution than your traditional checking and savings accounts. I personally use Ally Bank for the 1% interest rate and convienence but whomever you trust will work.
Before long you will start to notice your Financial Freedom Journey going at a much faster pace, all because you don't have to stop whenever something goes wrong or unexpected, which it will.
If you already have an emergency fund then congratulations, you are on your way! The changes in your life are right around the corner.
Joel Parker