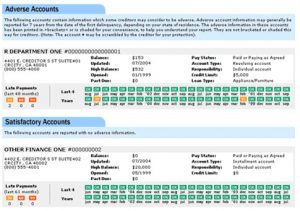 Today we are talking about your credit report, what it is, how to view it, and how it impacts your life.
What is a Credit Report?
In short a credit report is a document that is used to monitor all of your credit history. It contains a variety of information about you and your credit.
There are three major credit reporting agencies, TransUnion, Equifax, and Experian. All three operate similarly with minor differences. However, something to keep in mind is that in order for information to appear on your credit report it has to be reported to the agency. Therefore, it is not uncommon for each report to be different than the others, which makes it incredibly important to monitor all 3 reports.
Before we talk about how to get your credit report let's look at the various parts of a credit report:
Personal Information:
Your credit report contains the basics you would expect: your name, social security number, and date of birth. However, the credit report also contains all mailing addresses both past and present, all previous phone numbers and your current one. The credit report also contains your employment history and job title, again both past and current.
So where does this information come from? It can come from a variety of sources but the main source is when you apply for credit. For example, when you apply for an auto loan they typically will ask for your name, date of birth, phone number, employer name, job title, and address. When the car dealership then enters that information into their computer system your credit report is updated with that information.
Public Record Information
This section will show any open legal issues with your financial situation. These include bankruptcies, liens, judgements, or wage garnishments.
Account Information
Besides your personal information, your credit report also contains information about….well your credit. This is the largest section of your credit report and the most important.
The accounts section is broken up into two different sub-sections, adverse accounts and satisfactory accounts. Adverse accounts are accounts that either have a current issue or had an issue in the past 7 years, while satisfactory accounts are ones that have not had any issues.
If you have an account in the adverse section then it will remain there for 7 years from the date of first delinquency.
Under each account you will see:
The date you opened the account
The type of responsibility for the account, such as individual or joint if you have a co-signer
The type of account including

Revolving which includes credit cards and are accounts you can borrow from at anytime
Installment which are defined loans such as a mortgage or student loan that have a certain pay off date.
Open accounts which are accounts that accrue a balance and you must pay in full each month, these include cell phone bills and home utilities

The highest balance ever recorded on that account
The terms of the account if any apply such as deferred payments for student loans
Status of the account such as:

Current/Open
Closed
Sent to Collections/Charged-off
Late

Recent amount paid to the account
Current balance
Credit limit
Finally, you will see the full history of the account including if you have ever been late and if so for how many days.
Inquiries
This section shows the different individuals that have checked your credit report. There are two types of inquires that are documented including hard and soft inquires.
Hard inquiries are when a review is conducted for something that will have a direct impact on your credit. These include when you open a new account, ask for a credit limit increase, or take out an auto loan.
Soft inquiries are when a review is done that will not directly impact your credit. This includes you viewing your own credit report or when a bank "pre-approves" you for an account.
F-R-E-E that Spells Free Credit Report, Baby!
Yeah those commercials are pretty catchy but don't buy into it, those reports aren't actually free. However, in 1970 the U.S. Government passed the Fair Credit Reporting Act requiring the three major credit reporting companies to offer one free credit report every 12 months.
It is very easy to get your free credit report at the official website, http://annualcreditreport.com. Before you run off and grab all three instantly, keep in mind that you only get one free every 12 months. This means that if you grab all now you have to wait until this time next year to check up on your credit. Instead of getting all three now, I encourage you to get one every 4 months. This allows you to track your credit throughout the year.
If once every 12 months doesn't sound good, then I have great news for you. Another amazing site http://creditkarma.com allows you to check your TransUnion and Equifax credit reports every 7 days.
Disputes
If you notice something inaccurate on your credit report then you should dispute that inaccuracy. These could be negatively impacting your credit. Next week we will be talking about credit scores and will show you how to file a dispute.
Joel Parker