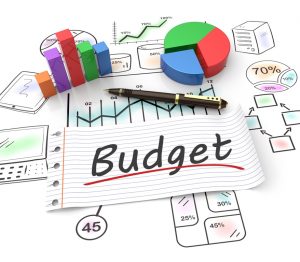 Budgeting can be very challenging, especially if you are just starting out. The good news, it DOES get easier. But even those who have been budgeting for a while might not be perfect. Here is a list of the most common budgeting mistakes I see.  Are you doing these?
Being Unrealistic
Budgeting is a lot like dieting, you have a vision for how it is going to go and then you plan for that vision. Like when you go on a diet and buy a bunch of groceries to make salads and couscous and then a month later you are stuck cleaning out your fridge. This happens in budgeting also!
People plan a budget with their ideal scenario in mind, no eating out, no entertainment, just bills. The problem is this doesn't account for your actual life and your actual spending habits. Yes, as part of the Financial Freedom Journey you must evaluate your expenses and make cuts. But your budget must be created in a way that you know can get you through the month without overspending. Otherwise, you are just wasting your time creating one.
Plan a budget that cuts out the unnecessary expenses, but keeps the expenses you need to make it through a month without failing.
Under Budgeting and Over Delivering
Many times people assume in their budget that the expense will be on the low-end so they can stretch their money further when building a budget. The problem is if you assume your electric bill will be $90 and it comes in at $105 then you have a $15 gap to fill from another category or risk taking on more debt.
Instead of planning for the best case scenario, plan for the worst. If you spend on average $195 for fuel each month, then don't plan $175 in your budget, with the expectation you will drive less. Instead plan for $200 and then actually drive less. When the month is over you will probably have $10+ left rather than struggling to find how to make ends meet.
Remember the "Surprise" Expenses
I bet a lot of times when you create your monthly budget you forget about the birthday gifts, school supplies, or the car registration. It happens, put these and other key money events on your calendar so that when you go to complete your monthly budget you can plan for these.
Also, for predictable larger expenses such as a Christmas gifts or homeowners insurance (if you don't pay monthly), divide those expenses by the number of months until the next payment. This gives you the monthly amount you should be setting aside. I personally, transfer the money to an "Allocated Funds" checking account I have at my bank to ensure I don't spend it. Then the next time that bill is due, you can pay it rather than panicking.
Budget with a Goal
We have talked a lot about the reason you are embarking on the Financial Freedom Journey. We discussed ensuring that you and your significant other both have a dream worth fighting for. When you budget you need to keep that dream in mind. Remember giving up the Travel Channel temporarily is worth being able to take a vacation later.
Additionally, keep the Financial Freedom Journey Stops in mind and also create your own milestones. You shouldn't just celebrate and live for the end goal, but also individual goals too. Rather than look at your student loans as one big debt, analyze a way to break it up and create milestones. Maybe after you pay off 1/3 of your student loans you should go out for a nice dinner just the two of you. Keep the goal sensible to ensure you don't get thrown off your Journey though, but make it exciting and something to look forward to and work for.
Budgeting can be amazing, but it can also lead to huge problems when not done properly. Don't fall into these habits. Remember each month is different and if your budget was thrown off the month before, fix it and move on, it will be better next month. Happy Budgeting!
Your Financial Freedom Partner,
Joel Parker